PRESS RELEASE
HDI Awards Journalists in Reproductive Health
Health Development Initiative (HDI) recognized three Rwandan journalists for their stellar efforts in reproductive health journalism, through the first Annual Reproductive Health Journalism Award. HDI is a civil society organization that strives to improve the quality and accessibility of healthcare including for sexual and reproductive health for all Rwandans. To achieve this, HDI works in partnerships with government, health care providers, civil society, media and communities.
HDI's Executive Director, Dr. Kagaba, stated that "These awards aim to recognize outstanding coverage by journalists on reproductive health and rights issues in Rwanda. Such issues are often considered taboo in our society and as a result we often don't have enough platforms to learn or discuss about them. We hope that this award will encourage more media practitioners to report on reproductive health and rights."
Currently, one in five 19-year-old Rwandan girls has started childbearing, and 16% of married Rwandan women have an unmet need for family planning. When given accurate and objective information, men, women and young people will be able to make informed decisions and protect themselves against unwanted pregnancies and sexually transmitted infections, including HIV. The media plays a crucial role in providing this information to millions of Rwandan, in line with the national policies. For the first Annual Reproductive Health Journalism award, a jury reviewed 15 entries from 11 media houses in Rwanda including IGIHE, RBA and The new times. After careful deliberation, results showed that the three winners are the following;
Overall winner: Muvara Eric from KT Radio with 78.6%. He made a radio broadcast titled "Rulindo bahangayikishijwe n' abana batwara inda bakiri bato"
Muvara Eric is a journalist with 10 years' experience. From 2007 to 2008 he worked with different newspapers that include Le Journal Umusanzu, Inyenyeri Iwacu, Solidarite, and Rushyashya. He has also worked with different radio stations from 2009-2011 like City Radio, Flash FM, Rwanda Focus, and Igitondo.com. Eric is currently working with Kigali Today LTD as a news reporter in Ruhango and Gicumbi district.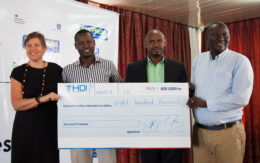 1st runner up: Umutoni Carine from RBA/RTV with 76.6%. She made a TV broadcast that aired on November 6th, 2015 titled: "Kuboneza Urubyaro"
Umutoni Carine is a Rwandan Journalist, currently working for Rwanda Broadcasting Agency RBA as a senior field reporter and a presenter of a special segment on health. Carine completed her Bachelor's degree in Journalism and Communications at the University of Rwanda in 2008. She started her journalism career at Radio Salus in 2005 where she acted as a news reporter and presenter for a sports show. She later received an internship placement with RBA in 2005 before she was retained as a news reporter and presenter in 2009. She reports mainly on health, children, gender and social affairs on both radio and Rwanda television. She has received two Development Journalism Awards in 2016 as Journalist of the Year 2016 and Best Female Journalist of the Year 2016.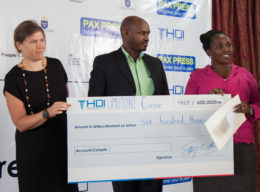 2nd runner up: Muyombano Peter from Radio/TV Flash with 76%. He made a radio broadcast that aired on the 16th November, 2015 titled: "Udukingirizo mu mashuri".
Muyombano Pierre is a media and communication professional. Muyombano Pierre pursued his studies in the School of Journalism and Communication at the National University of Rwanda, where he graduated with a degree in Journalism and Communication in 2013. He has completed course work in Masters of Arts in Mass Communication, with specialization in Communication for Development at Jomo Kenyatta University-Kigali Campus.  He started his journalism and communication career in 2010 when he joined Radio Salus Rwanda as an intern. Later in 2012 he was hired by Radio Flash FM/TV Rwanda as a political and health Senior Reporter and Subeditor.
The three winners were awarded their prizes, during the award ceremony that took place in Umubano Hotel in Kigali, on 22nd February. The awards were sponsored by Norwegian People's Aid, the Embassy of Sweden, the Department for International Development, and The David and Lucille Packard foundation.