Project SHARE teaches adolescents about Sexual Health And Reproductive Rights. Youth are taught lessons by Peer Educators, exceptional young people who attend HDI trainings and then share their knowledge with their contemporaries via health clubs.
On February 10th, HDI held a check-in meeting and discussion for Peer Educators to report their experiences so far. Afterwards, Peer Educators NDANGA Joli and UWASE Angelique stayed to answer some questions from HDI staff member Nancy. Here is what they had to say: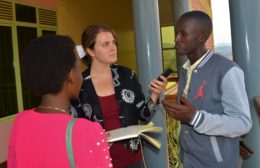 Nancy: What do you think about SHARE?
Joli: It is a good program because it educates not only me but also the ones I teach. What I and others thought we knew was different from the correct information that we have learned.
Angelique: It made me happy. It was valuable and important for me. It helped me to advise my peers and to change their minds, showing them what is good and what is bad so that we can all work together towards the development of Rwanda with good health.
Nancy: Do you like being a Peer Educator?
Joli: In my lifestyle and what I always wish for is to help other people in terms of educating them and changing their behavior. When I do this, I do it with joy.
Angelique: It has always been my dream to meet and educate people about what I am privileged to know. SHARE is helping me achieve this dream.
Joli: We really like it.
Nancy: What impact do you think that SHARE is having on Rwanda?
Joli: The youth that we work with are very happy with the program. It is very good because we are in the same age group as our students, so we can openly talk about things. If I were an older person or a father, then they would hold back from being honest.
Angelique: It came at the right time when it was needed. It helps us to educate the students and to close the knowledge gap.
Nancy: Do you think that students like the program?
Joli: They like it and they were happy about it because the way that we were taught to present the lessons is interesting to young people.
Angelique: What he is saying is true. Because we actually go and talk to these people in person rather than them looking for information on websites, it shows them that these are real issues that are relevant to them. We can relate to the students.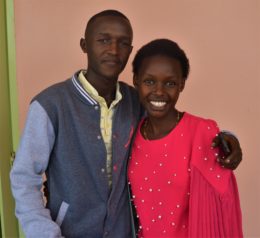 Thank you Angelique and Joli for teaching Rwandan youth about how to lead healthy lives and helping make Project SHARE a success!