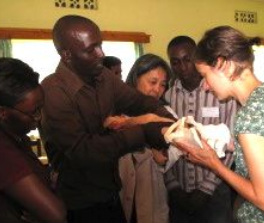 HDI works  to strengthen the capacity of  healthcare  providers through  a  combination  of training  and  medical  assistance programs. HDI  supports  international  medical  volunteers to  treat  Rwandan patients  and  train  their Rwandan counter parts in specialized medical treatments.
Our core activities include:
Training healthcare providers on patients' rights, GBV, human rights, safe abortion, and health services for marginalized populations.
Bolstering continuing medical education (CME) programs to provide annual training and conferences for national and international medical professionals.
 Providing an avenue for international medical specialists to train local healthcare providers.